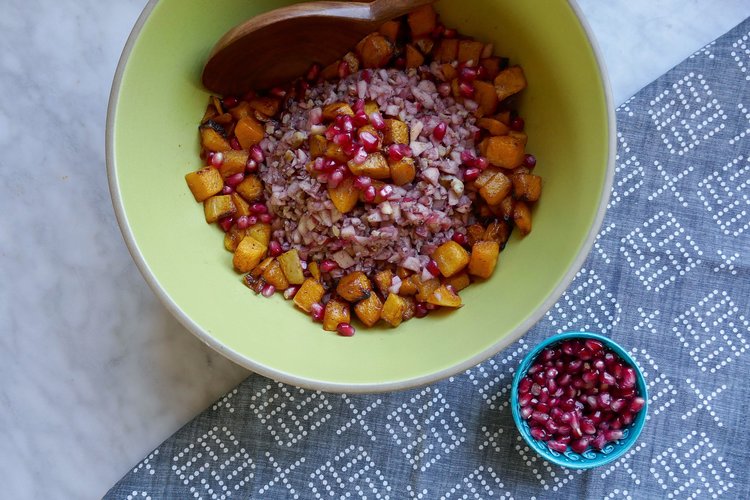 When the Radish first asked me to work on a recipe for Rosh Hashanah, I was stumped. As a Hebrew school drop-out, I remember the meanings behind most holidays but, for my family and me, high holidays have come to mean a time for us to gather together, celebrate our heritage, and carry on family traditions that, let's face it, usually revolve around eating.
While pondering what I would make, I realized we tend to eat many of the same dishes regardless of the holiday, adding holiday-centric options depending on what we're celebrating- latkes, matzoh, matzoh ball soup, challah, etc. When Rosh Hashanah comes around, we are sure to have our challah, honey, and apples on the table, but our "holiday menu" begins and ends there.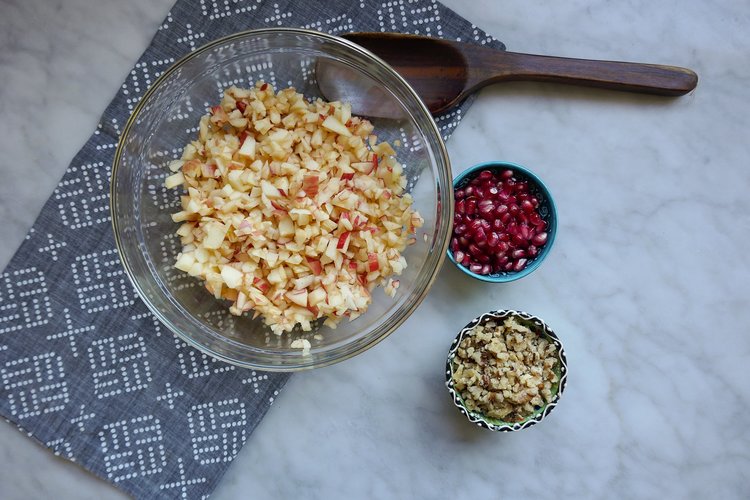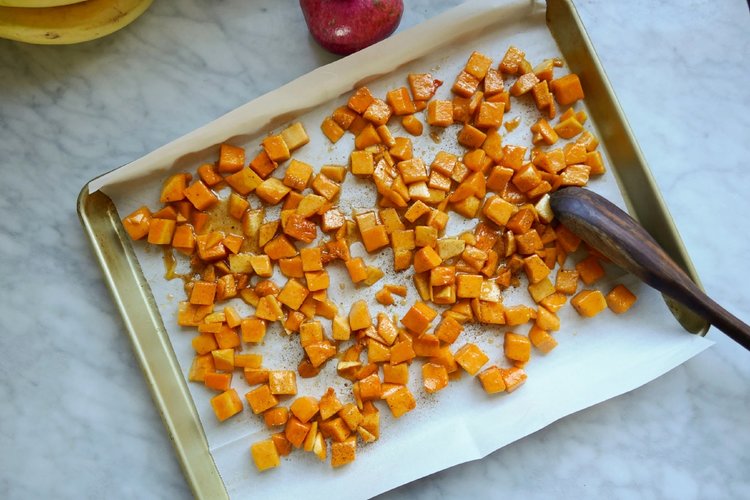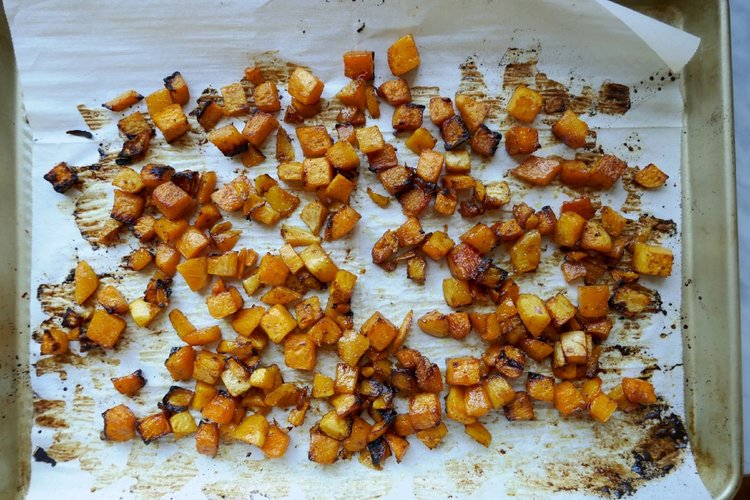 With Rosh Hashanah falling so late this year, we've already experienced a few chilly fall nights that may have you hankering for some of those traditional fall flavors that we all love- apples, cinnamon, and nutmeg. The fall favorites in this dish can certainly hold their own against any Pumpkin Spice Latte. As an added bonus, many of the ingredients in this dish hold special meaning for Rosh Hashanah as we celebrate the beginning of a new year. Traditionally, we dip challah or apples in honey in hopes of a "sweet year", hence the inclusion of apples and honey in this dish. Pomegranates and squash are also thought to hold special meaning for this holiday, as we wish for excellence and repentance. But lets face it, with these ingredients, how can you go wrong.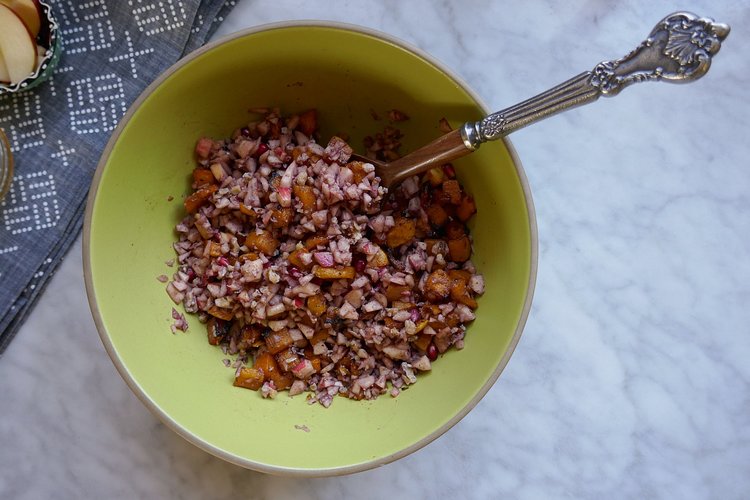 cinnamon apples with squash and pomegranates
Something healthy and a little sweet to kick off the Jewish New Year
ingredients
1 lb. butternut squash, peeled and cut into small cubes
3 tablespoons honey
2 tablespoons olive oil
1 1/2 teaspoons cinnamon
1/4 teaspoon nutmeg
1/2 teaspoon sea salt
3 medium-sized apples, we like honeycrisp
1/2 cup walnuts, chopped
1/2 cup red wine
1 pomegranate, seeds removed
method
Preheat oven to 400 degrees. In a large bowl, combine butternut squash, olive oil, 2 tablespoons of honey, 1 teaspoon cinnamon, 1/4 teaspoon nutmeg, and a pinch of sea salt. Toss to evenly coat squash.
On a parchment paper-lined sheet tray, spread squash cubes into a single layer and bake for 30 minutes. Once tender and lightly browned, remove from the oven and let cool.
Core, slice, and dice the apples and place into a bowl with the walnuts, remaining 1 tablespoon of honey, wine, and 1/2 teaspoon of cinnamon (or more depending on your preference). Mix to coat the apples evenly and set aside.
Once the butternut squash has cooled, plate your dish.  To maximize your tablescape "wow factor", you can arrange the apple walnut mixture in the center of your serving plate and top with squash, pomegranate seeds, and a drizzle of honey…or cut right to the chase and mix it all together for a no-fuss option.