[fullwidth background_color="" background_image="" background_parallax="none" enable_mobile="no" parallax_speed="0.3″ background_repeat="no-repeat" background_position="left top" video_url="" video_aspect_ratio="16:9″ video_webm="" video_mp4="" video_ogv="" video_preview_image="" overlay_color="" overlay_opacity="0.5″ video_mute="yes" video_loop="yes" fade="no" border_size="0px" border_color="" border_style="" padding_top="20″ padding_bottom="20″ padding_left="0″ padding_right="0″ hundred_percent="no" equal_height_columns="no" hide_on_mobile="no" menu_anchor="" class="" id=""][one_half last="no" spacing="yes" center_content="no" hide_on_mobile="no" background_color="" background_image="" background_repeat="no-repeat" background_position="left top" border_position="all" border_size="0px" border_color="" border_style="" padding="" margin_top="" margin_bottom="" animation_type="" animation_direction="" animation_speed="0.1″ class="" id=""][fusion_text]
Low Carb Recipes with Radishes
[/fusion_text][accordian divider_line="" class="" id=""][toggle title="Green Bean with Red Onion Salad with Radish Dressing" open="no"]
5 radishes, unpeeled, trimmed, coarsely chopped
1/2 cup olive oil
2 tablespoons Sherry wine vinegar
1 tablespoon honey mustard
1/2 teaspoon minced garlic
1 1/2 pounds slender green beans, trimmed
4 cups mixed greens (such as red leaf lettuce and baby spinach), torn into bite-size pieces
1 red onion, thinly sliced
2 large radishes, sliced paper-thin (optional)
Place 5 radishes in processor. Add oil, vinegar, mustard and garlic; process until thick dressing forms. Season with salt and pepper. Transfer to small bowl. (Can be made 1 day ahead. Cover; chill. Bring just to room temperature before using.)
Cook green beans in large pot of boiling salted water until just crisp-tender, about 5 minutes. Drain beans and rinse under cold water. Drain. Pat dry with paper towels. Wrap in kitchen towels and place in plastic bag. Chill until cold, at least 1 hour and up to 1 day.
Place beans, mixed greens and onion in large bowl. Toss with enough dressing to coat. Season with salt and pepper. Garnish with sliced radishes, if desired.
Serves 8.
[/toggle][toggle title="Mediterranean Tuna and Radish Salad" open="no"]
This is a great main-dish salad, with tender tuna and crunchy, spicy radishes. Serve it on top of lettuce with crusty bread on the side for a substantial no-cook meal.
2 tablespoons lemon juice
3 tablespoons extra-virgin olive oil
1/4 teaspoon salt, or to taste
1 pound radishes, thinly sliced
2 tablespoons chopped fresh parsley leaves
3 scallions, white and green parts, chopped
6 kalamata or other large black olives, pitted and coarsely chopped
Two 6-ounce cans tuna (preferably imported and packed in olive oil), drained and coarsely mashed with a fork.
1 medium head romaine lettuce, washed, dried, and torn into bite-size pieces.
Whisk together the lemon juice, olive oil, and salt in a small bowl.  Combine the radishes, parsley, scallions, olives, and tuna in a medium-size bowl. Pour the dressing over the salad and toss to coat.  Divide the lettuce leaves among 4 plates. Top with the tuna salad. Serve immediately.
Serves 4 as a main course.
[/toggle][toggle title="Peppered Beef Slices with Green Onion and Radishes" open="no"]
Sangria lightened with sparkling water makes a festive spritzer to go with this dinner.
1 1/2 pounds lean flank steak, cut across grain into 1/4-inch-wide strips
1/3 cup dry red wine
1 tablespoon sugar
1 1/2 teaspoons coarsely cracked black pepper
1 teaspoon crushed fennel seeds
3/4 cup canned low-salt chicken broth
2 tablespoons low-sodium soy sauce
1 1/2 tablespoons cornstarch
3 teaspoons vegetable oil
24 green onions, cut diagonally into 2 inch pieces
24 radishes, cut into 1/4-inch-thick slices
Combine first 5 ingredients in 13 x 9 x 2-inch glass baking dish. Cover and refrigerate at least 2 hours, turning once to coat. (Can be prepared 1 day ahead. Keep chilled.)
Mix broth, soy sauce and cornstarch in small bowl. Heat 1 1/2 teaspoons oil in large nonstick skillet over high heat. Add half of steak and half of juices from dish and sauté until steak is brown, about 1 minute. Transfer mixture to plate. Repeat with 1 1/2 teaspoons oil, steak and juices. Return all steak and juices skillet. Add green onions and radishes and sauté 1 minute. Stir broth mixture, add to skillet and sauté just until steak is cooked through and sauce thickens, about 4 minutes.  Transfer to plates and serve.
Serves 6.
[/toggle][toggle title="Radishes with Chive Butter" open="no"]
Can be prepared in 45 minutes or less.
3/4 stick (6 tablespoons) unsalted butter, softened
2 tablespoons cream cheese, softened
1 tablespoon minced fresh chives
1/4 teaspoon freshly grated lemon zest
Tabasco to taste
18 radishes (about 2 bunches), the leaves trimmed, leaving 1 inch of the stem, and the radishes halved lengthwise
36 fresh flat-leafed parsley leaves for garnish
In a small bowl with a fork combine well the butter, the cream cheese, the chives, the zest, the Tabasco, and salt to taste and transfer the mixture to a pastry bag fitted with a medium-sized open-star tip. Arrange the radishes, cut sides up, on a platter, put a parsley leaf on each radish half, and pipe the chive butter onto it.
Makes 36 hors d'oeuvres.
[/toggle][toggle title="Sauteed Radishes and Sugar Snap Peas with Dill" open="no"]
1 tablespoon butter
1 tablespoon olive oil
1/2 cup thinly sliced shallots
12 ounces sugar snap peas, trimmed, strings removed
2 cups thinly sliced radishes (about 1 large bunch)
1/4 cup orange juice
1 teaspoon dill seeds
1 tablespoon chopped fresh dill
This side dish would pair beautifully with roast lamb or salmon. To remove strings from fresh peas, just snap off the stem end and pull string lengthwise down each pod. Melt butter with oil in large nonstick skillet over medium heat. Add shallots and sauté until golden, about 5 minutes. Add sugar snap peas and radishes; sauté until crisp-tender, about 5 minutes. Add orange juice and dill seeds; stir 1 minute. Season with salt and pepper. Stir in chopped dill. Transfer to bowl; serve.
Market tip: To make this dish even faster, buy sugar snap peas with the strings already removed; they're sold in 8-ounce packages at some supermarkets.
Makes 6 servings.
[/toggle][toggle title="Sugar Snap Pea, Radish and Cucumber Salad" open="no"]
1/2 lb sugar snap peas, trimmed and, if large, halved diagonally
1 English cucumber, halved lengthwise and seeded
1 bunch radishes (1 lb)
1/4 cup sesame seeds, toasted
1 tablespoon seasoned rice vinegar
1 teaspoon cider vinegar
Cook peas in a saucepan of boiling salted water just until they turn a brighter shade of green, about 30 seconds. Drain in a colander and rinse under cold water to stop cooking.
Cut halved cucumber and radishes crosswise into 1/4-inch-thick slices.
Toss peas, cucumber, radishes, and sesame seeds with vinegars and season with salt and pepper.
Cooks' note:
If you don't have seasoned rice vinegar in your cupboard, you can substitute unseasoned and add 1/4 teaspoon salt and 1 1/2 teaspoons sugar.
Makes 6 servings.
[/toggle][toggle title="Warm Chicken and Radish Salad with Wilted Romaine" open="no"]
1/4 cup plus 1 tablespoon olive oil
12 tablespoons red wine vinegar
1 teaspoon Dijon mustard
1/2 teaspoon salt
1/4 teaspoon freshly ground black pepper
1/4 packet sugar substitute
1 pound boneless, skinless chicken breast filets
1 small red or yellow bell pepper, thinly sliced
2 cloves garlic, finely chopped
1 cup quartered radishes ( about 4 ounces)
3 green onions, cut diagonally in 1″ pieces
2 cups romaine lettuce, cut into bite sized pieces
1.  In a bowl, whisk together 1/4 cup olive oil, vinegar, mustard, salt, pepper and sugar substitute; set aside.
2.  Heat oven to warm setting.  Heat remaining tablespoon oil in a large nonstick skillet over medium heat.  Sprinkle chicken with salt.  Cook 5 minutes per side until golden brown and cooked through.  Thinly slice chicken; place in oven to keep warm.
3.  In same skillet, cook pepper about 5 minutes, until soft.  Add garlic and cook 1 minute more.  Stir in radishes and green onions.  Cook 5 minutes, until radishes are crisp-tender.  Mix in lettuce and chicken.  Heat through until lettuce wilts slightly.
4.  Transfer to a bowl; toss with dressing until evenly coated.  Serve immediately.
Yield: 2 servings
[/toggle][/accordian][separator style_type="none" top_margin="20″ bottom_margin="20″ sep_color="" border_size="" icon="" icon_circle="" icon_circle_color="" width="" alignment="center" class="" id=""][fusion_text]
Low Carb Recipes
[/fusion_text][accordian divider_line="" class="" id=""][toggle title="Creamed Mushrooms with Cheese" open="no"]
2 Tbsp butter
1 Tbsp olive oil
1 pound firm white mushrooms – thinly sliced
2 Tbsp dry sherry
1/4 cup sour cream
2 Tbsp freshly grated Parmesan Cheese
Salt
Freshly ground pepper
Additional Parmesan Cheese, if desired
Melt butter in a skillet. Add oil. (This helps prevent butter from burning. Alternatively, you can use Plugrá – a more heat stable butter – see our product suggestions page for more info.) Add sliced mushrooms and sauté for 2 minutes. Add sherry and cook 1 minute more. Mix together sour cream, grated cheese, salt, and pepper and add to mushrooms. Cook over low flame until sour cream has warmed thoroughly (do not boil.) Add additional grated cheese if desired. Serve while warm.
Makes 4 Servings.[/toggle][toggle title="Elegant Puffed Broccoli" open="no"]
2 bunches broccoli, cut into spears, cooked to desired tenderness
2 egg whites, room temperature
1/4 tsp salt
1/2 cups shredded Swiss cheese
1/2 cup -real- mayonnaise
Arrange hot cooked broccoli in shallow 1 1/2 quart pan or broiler proof serving dish. In small bowl with mixer at high speed, beat egg whites and salt until stiff peaks form. Fold in cheese and mayonnaise; spoon evenly over broccoli. Broil six inches from source of heat four minutes or until golden brown.
Makes 8 Servings.[/toggle][toggle title="Fried Cabbage with Onion and Bacon" open="no"]
5 thick slices or 7 thin slices of bacon
2 Tablespoons butter
1 small white onion, sliced very thin
1 small head of cabbage – cut in half
2 Tablespoons cider vinegar
1 bay leaf (optional)
Water
Cut bacon into 1″ pieces. Place in large frying pan and cook until ready to turn. Add butter and onion and cook till medium brown. Add cut cabbage and add bay leaf if using. Add enough water to cover (1/4 cup at a time.) Cover and allow to steam, stirring often, and adding water as needed to help loosen the brown bits in the pan. Cook 15-20 minutes (it will cook down quite a bit in volume.) Taste to check for desired tenderness. When almost done, add vinegar, stir, and heat an additional 5 minutes. Sprinkle with coarse black pepper just before serving if desired.
Makes 4-6 servings.[/toggle][toggle title="Green Bean, Spinach and Beet Salad" open="no"]
| | |
| --- | --- |
| The green beans and the poblano chiles in the salad dressing may be the only ingredients that are indigenous to Mexico, but the colorful combination of vegetables, with their contrasting textures, results in a fitting accompaniment to any Mexican dinner. | |
Dressing
2 fresh poblano chiles
1/4 cup fresh orange juice
1/4 cup extra-virgin olive oil
1 tablespoon apple cider vinegar
2 garlic cloves
Salad
2 small beets
3 tablespoons fresh lime juice
1 1/2 pounds green beans, trimmed, cut diagonally into 1-inch pieces
3 cups baby spinach leaves
1 small white onion, sliced paper-thin
5 large radishes, sliced paper-thin
For dressing:
Char chiles directly over gas flame or in broiler until blackened on all sides. Enclose in paper bag 10 minutes. Peel, seed, and coarsely chop chiles.
Combine chiles, orange juice, oil, vinegar, and garlic in blender. Blend until mixture is smooth and thick. Season dressing to taste with salt and pepper. Cover; chill until dressing is cold, at least 1 hour and up to 1 day.
For salad:
Preheat oven to 400°F. Wrap each beet tightly in foil; place directly on oven rack. Roast beets until tender when pierced with knife, about 50 minutes. Unwrap beets and cool completely, then peel. Coarsely grate beets into medium bowl. Toss with lime juice. Season to taste with salt and pepper. Cover and let stand at room temperature at least 1 hour.
Cook green beans in large pot of boiling salted water until crisp-tender, about 3 minutes. Drain; transfer to large bowl of ice water to cool. Drain again and pat dry.
Toss green beans, spinach, onion, and radishes in large bowl with enough dressing to coat. Season with salt and pepper. Divide salad among plates; top with beets.
Makes 6 servings.[/toggle][toggle title="Herbed Cream Cheese Cucumber Rounds" open="no"]
4 oz cream cheese, softened
2 tablespoons thinly sliced fresh mint
2 teaspoons finely chopped fresh chives
1/2 teaspoon finely grated fresh lemon zest
1/4 teaspoon fresh lemon juice
1/8 teaspoon table salt
Pinch of cayenne, or to taste
1/2 medium seedless cucumber (usually plastic-wrapped)
3 medium radishes
Coarse sea salt for sprinkling
Special equipment: a Japanese Benriner* or other adjustable-blade slicer
Garnish: tiny fresh mint leaves and finely grated fresh lemon zest
Stir together cream cheese, herbs, zest, lemon juice, table salt, and cayenne.
Slice 32 (1/8-inch-thick) rounds from cucumber with slicer. Trim bottoms from radishes, then slice into 32 (1/16-inch-thick) rounds with slicer. Top each cucumber slice with a radish slice and 1/2 teaspoon herbed cream cheese. Sprinkle with coarse sea salt and serve immediately.
*Available at Asian markets and cookware shops.
Makes 32 hors d'oeuvres.[/toggle][toggle title="Mock Mashed Potatoes" open="no"]
2 10oz pkgs frozen cauliflower (or fresh 3/4 head)
1 tsp chicken boullion granules
1/4 tsp white pepper
1 tsp minced onion flakes (optional)
2 Tbsp butter
2 Tbsp heavy cream
Preheat oven to 375°F. Cook cauliflower in microwave or on stovetop until it is VERY done – fall-apart fork tender. Drain well and mix cauliflower with all other ingredients except cream in food processor or with a powerful mixer (hand or stand). Mixing with mixer will give "lumpier" results than a food processor, but some people feel the lumps make it seem even more like mashed potatoes. Add cream slowly and mix again.
Spray an ovenproof dish with cooking spray and put mixture in. Add pats of extra butter or margarine on top if you like an extra buttery potato, and a bit of paprika sprinkled on top adds nice color as well.  Bake 15 – 20 minutes until hot.
Makes 4-6 Servings.
ALTERNATE VARIATIONS: Instead of using cauliflower, you can also use Turnips! For this method, peel and dice turnips to very small squares and boil till extremely tender (just short of mush!). Use the method above, or skip the oven step if you prefer since they hold their shape better than cauliflower. They have a very potato taste also – you would not guess these started their lives as turnips! For a REALLY rich Mock Mashed Potato, add 2 oz Philadelphia Cream Cheese (softened) before adding to the mixer/food processor. Adjust carbs accordingly. Turnips have slightly LESS carbs than cauliflower (and more fiber) so there's no worry of over-carbing.[/toggle][toggle title="Peppery Turnip Fries" open="no"]
8 medium turnips (about 2 1/2 pounds)
1/2 cup heavy cream
1 teaspoon Splenda
1 teaspoon freshly grated nutmeg or 1/2 teaspoon ground nutmeg
1 teaspoon freshly ground black pepper
1/4 teaspoon salt (sea salt works best)
1/4 cup grated Parmesan cheese
Olive oil spray
Lime juice
Peel the turnips with a vegetable peeler, slice and cut into 2 1/2-by-1/2-inch sticks. Pour 1/2 cup heavy cream into a large bowl and place the turnip sticks into the cream. Fill bowl with cold water until the turnips are completely covered. Add 1 teaspoon Splenda. Swirl a bit to mix and allow to sit in cream mixture for 10-15 minutes. (This cream-soaking step removes the "bite" flavor of the turnips, leaving them with a milder, more potato-like flavor.) Rinse in colander with cool water and pat dry.
Preheat oven to 425°F.
Combine turnip sticks with the nutmeg, pepper, sea salt and Parmesan cheese in a large plastic (Ziploc-type) bag. Seal the bag and shake well to coat the turnip sticks.
Spray 2 large baking sheets lightly with the olive oil spray. Spread the turnips in a single layer on the sheets and spray again with the olive oil.
Bake in a preheated 425°F oven for 15 minutes. Turn the fries over and continue baking for 15 minutes, until the fries are tender and golden in color. Serve hot with a sprinkle of lime juice.
Makes 8 servings.[/toggle][toggle title="Portabello Mushrooms with Brie" open="no"]
2 large portabello mushrooms
1 Tbsp butter
1 Tbsp sherry
1 garlic clove
6 oz brie cheese
2 Tbsp pesto sauce
Lightly sauté mushrooms in butter, sherry and garlic over medium heat. Drain well on paper towels. Cut up brie into 12 pieces and place inside mushrooms. Add a 1/2 Tbsp of the pesto on top of each. Place under the broiler until cheese melts (usually less than 1 minute.) Serve immediately.
Makes 2 Servings.[/toggle][toggle title="Sauteed Zucchini" open="no"]
1/2 small onion, sliced
1 pound mushrooms, sliced
5-6 zucchini, sliced
2 Tablespoons butter
Season to taste.
1 cup mozzarella cheese, grated or shredded
Sauté onions and mushrooms in butter until tender. Add zucchini and cook just until tender – don't overcook! Sprinkle with seasoning; stir to mix well and, while still in frying pan, top with mozzarella cheese. When cheese is melted, serve immediately! This is a superb side-dish to steaks.
Makes 8 Servings.[/toggle][toggle title="Scalloped Cauliflower" open="no"]
2 bags frozen cauliflower
1/2 small white onion – finely chopped
12 oz bag finely shredded cheddar cheese (sharp, if you like)
1/2 pint whipping cream
Salt and white pepper
1/4 cup butter (1/2 stick)
Crumbled cooked bacon (optional)
Preheat oven to 350°F. Open frozen cauliflower bags one at a time into a collander and run cool water over each to separate the pieces and slightly thaw, but don't use warm water. Spray large casserole dish with Pam (or butter it well) and layer 1/2 (1 bag's contents) of cauliflower across bottom of dish. Season with salt and pepper; then layer with bits of onion, thinly sliced "pats" of butter, and 1/2 of cheddar cheese. Repeat. Pour cream over top and place dish in oven. If dish is very full, put a cookie sheet under it to prevent bubble-over in oven. Bake 45 minutes. 10 min before completion, add crumbled bacon if you opt to. Bubbly and delicious – this will cure your craving for scalloped potatoes!
Makes 10 Servings.[/toggle][/accordian][/one_half][one_half last="yes" spacing="yes" center_content="no" hide_on_mobile="no" background_color="" background_image="" background_repeat="no-repeat" background_position="left top" border_position="all" border_size="0px" border_color="" border_style="" padding="" margin_top="" margin_bottom="" animation_type="" animation_direction="" animation_speed="0.1″ class="" id=""][fusion_text]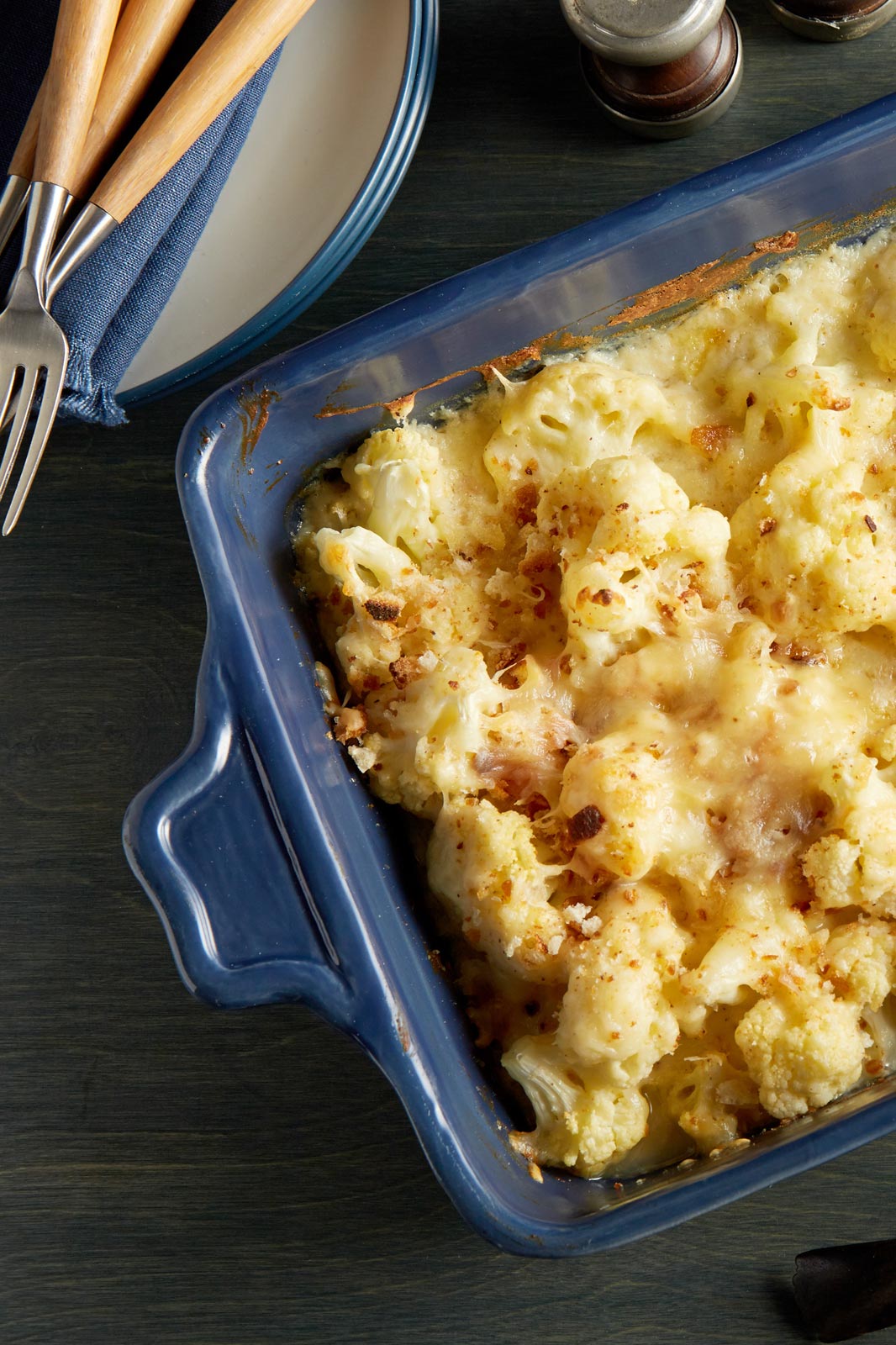 [/fusion_text][/one_half][/fullwidth]